Rantan Rovin' Bush Band performs acoustic Aussie bush music, country songs, bush poetry and other Australiana. Themed for the Outback, the band has a superb collection of songs about swaggies, drovers, bushrangers, shearers and convicts – ideal for many venues and functions where an Australian theme is required.
The band plays fiddle, banjo, guitar, mouth-organ, tin-whistle and mandolin – you can even join in our famous expand-a-band and we will provide instruments so you can play along with the band!
Try your hand at the lagerphone, washboard, spoons, wobbleboard and more! Maybe you could try your hand at those great Aussie pastimes like thong throwing, or playing two-up! You could even take part in some great old-time bush dancing! (Rantan will show you the steps)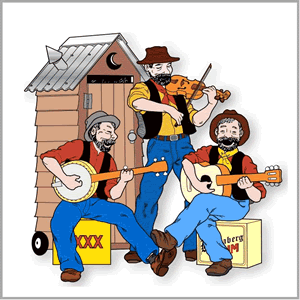 Rantan Rovin' Bush Band is a 2 to 4 piece professional acoustic/roving presentation which encourages a remarkable amount of audience participation. When you require your entertainment to be mobile, or where noise level restrictions means a stage band presentation is unsuitable, then Rantan Rovin' Bush Band may be just what your function needs – the ideal and complete entertainment package for your street festival, school fête, barbeque party, campfire party, or pool-side function. This act is also perfect for restaurants, shopping malls, all tourist venues, trade fairs and conventions.
Rantan Rovin' Bush Band is a great, all-acoustic outback swaggy show featuring the very best in Australian entertainment and humour!