All our dance books come with one or two companion CDs that contain a full audio soundtrack for each dance in the book. All tracks have the dance 'calls' at least once through the sequence, and enough music for the complete dance.
Here are a few sample 20-second grabs from the companion CDs and other audio products in MP3 format—click on the play button to hear the sample. Some of the samples for our dance books have bits of the dance 'calling' as an example. All samples are 64kbps mono for faster loading.
---

BUSH DANCE!
Our flagship collection of bush and folk dances for ages 7 to adult.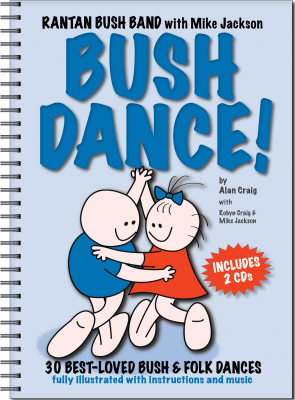 Brown Jug Polka — an energetic couples dance.
Dashing White Sergeant — a dance for sets of 6 (3 facing 3).
The Galopede — a simple longways set dance for 5 or 6 couples.
Postie's Jig — a more challenging dance for 4 couples.
Waves of Tory — a great longways set dance for 7 couples.
---

SOCIAL DANCE!
A collection of modern, old-time and novelty dances suitable for ages 7 to adult.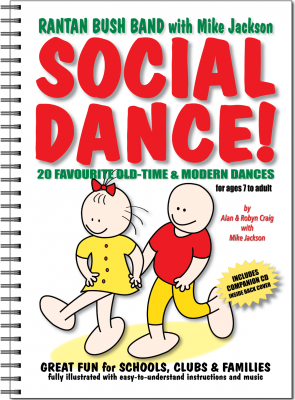 Bootscootin' Hoedown — a simple line dance invented by Robyn.
Boston Two-Step — a classic couples dance.
Mexican Hat Dance — a famous novelty dance.
Parma Waltz — an elegant waltz time dance
Progressive Barn Dance — an old-time favourite
---

RIG-A-JIG-JIG!
Our dance collection for little kids. All the music is at an easy pace and suitable for kindergarten to 7 years.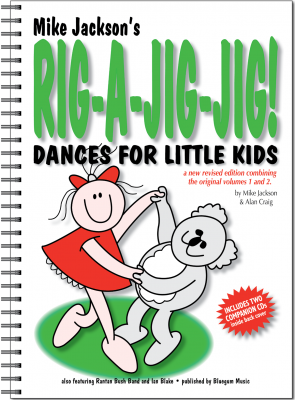 Barn Dance — Mike with Rantan Bush Band.
Birdie Dance — Mike with Ian Blake.
Circassian Circle — Mike and Rantan again.
Dingle Dangle Scarecrow — Mike and Ian.
School Daze Rap Dance — Mike and Ian again.
---

The SESSION TUNEBOOK: Books 1–4
A collection of over 300 tunes for fiddle, tin whistle, banjo, etc. The companion audio CD contains arrangements in both MIDI and AAC formats.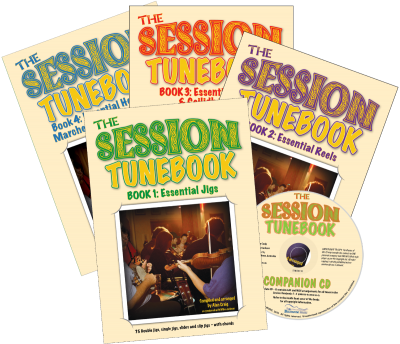 Cliffs of Moher — an Irish jig (Book 1).
A Fig for a Kiss — a slip jig (Book 1).
Tarbolton Lodge — a wonderful Scottish reel (Book 2).
Trip to Durrow — this Irish reel is a big favourite at sessions (Book 2).
Munster Bank — a lively polka (Book 3).
Bottom of the Punchbowl — this is a great measure/ceilidh dance (Book 3).
Chief O'Neill's Favourite — a brilliant Irish hornpipe (Book 4).
Black Bear March — one of the best marches and an all-time favourite (Book 4).
Si Bheag, Si Mhor — (Gaelic meaning "Little Hill, Big Hill"). This is a beautiful waltz/air written by Turlough O'Carolan (Book 4).
---

The CAMPFIRE SONGBOOK
A great collection of 100 sing-along songs from around the world. The companion audio CD contains arrangements in both MIDI and AAC formats.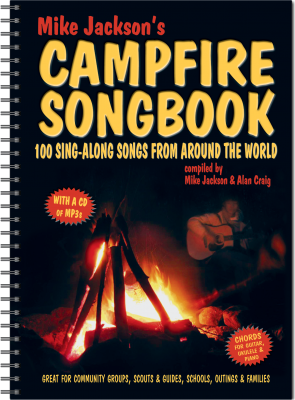 Bill Bailey — An American Dixieland song.
Guantanamera — A Cuban folksong popularised by Pete Seeger.
House of the Rising Sun — An American Blues song. Eric Burdon made the song world famous with his iconic 1964 hit.
Loch Lomond — A timeless Scottish folksong.
Scarborough Fair — Simon and Garfunkel had a smash hit with this English folksong in 1965.
Tom Dooley — An American folksong from North Carolina. The song was popularised by The Kingston Trio in 1958.
---

BEST-EVER KID'S SONGS
All the music from Mike & Michelle's gold-award albums in 2 CDs with all the music for the songs in a wonderful companion book.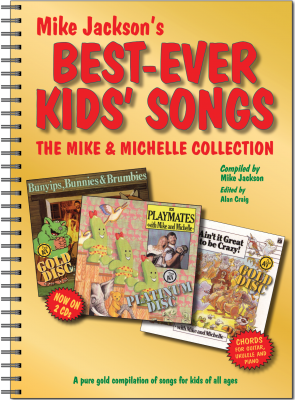 Bear Hunt — A favourite from Playmates.
Doctor Knickerbocker — One of Mike's big hits from Ain't It Great to Be Crazy.
The Ugly Duckling — A famous children's song. This one is also from Ain't It Great to Be Crazy.
I'm Hippity Hop the Kangaroo — Classic Australian song for kids from Bunyips, Bunnies and Brumbies.
Bananas in Pyjamas — Mike's smash hit from Playmates.
---
ON OUR SELECTION
A CD collection of Rantan Bush Band favourites.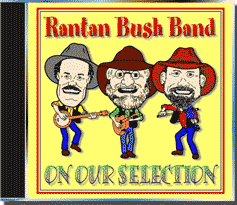 Best View of Australia – written by Tony Miles, our long-time lead singer.
Boys from the Bush – from Lee Kernaghan.
Give Me a Home Among the Gum Trees – originally released by Bullamakanka.
Lights on the Hill – written by Joy McKean. Slim Dusty won the 1974 Tamworth Song of the Year with this hit.
Waltzing Matilda – 'Banjo' Paterson's all-time Aussie favourite. This rendition is known as the Queensland version.
---